With an increased focus on climate change and corporate responsibility globally, Canadian companies have seen increasing pressure from shareholders to adopt environmental, social, and governance ("ESG") measures into their operating, governance and talent strategies.
Hugessen keeps an eye on shareholders' sentiment and growing trends, especially as it relates to executive compensation. Shareholder proposals are a good indicator of growing trends and interest amongst the community. Again, this year, among the TSX60, we witnessed an increasing number of ESG-related shareholder proposals. This article provides an overview of ESG-related shareholder activism from the most recent proxy season – notably a focus on Environmental and Social factors.
Environmental Factors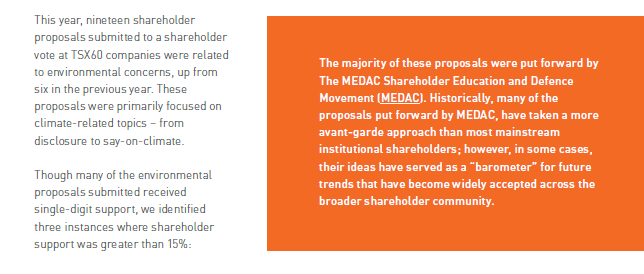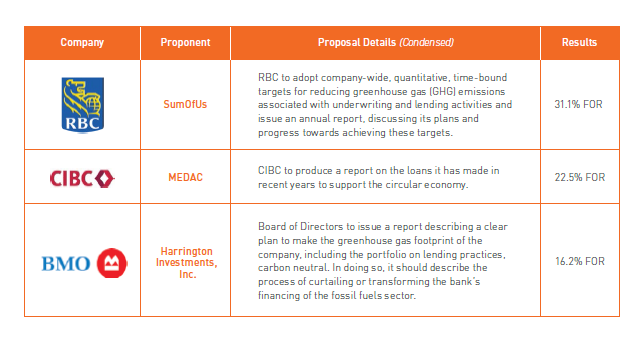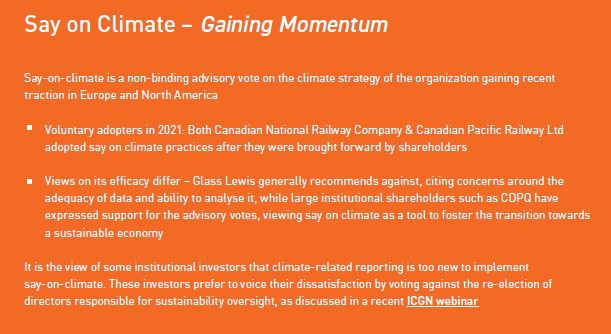 Behind the scenes, initiatives such as Climate Action 100+, are also working with management and investors to make progress in reducing greenhouse gas (GHG) emissions. In the case of Teck Resources Limited, Climate Action 100+ has partnered with organizations such as the Shareholder Association for Research and Education (SHARE), to work with management in their approach to climate governance. In 2021, the company announced their commitment to net-zero by 2050 and set targets for the interim. The company has also enhanced their climate-related disclosure for both their current and proposed operations.
Beyond TSX-listed companies, global oil and gas companies are facing increased pressure from shareholders on environmental activities through a range of strategies:
A shareholder proposal at Chevron Corporation requesting climate-related accounting to transition the company to clean energy, received 62% support. Following the proposal, in October 2021, the company announced that it would set a net zero emissions target for 2025.
Exxon Mobil Corporation recently gained three dissident directors, appointed by an activist investor, on a backstory of climate transition, governance, and director expertise.
Royal Dutch Shell (RDS), a company that is illustrative of the ESG-related compensation debate, was ordered by a Dutch court to deepen carbon emissions cuts as part of their climate strategy, potentially creating momentum for legislators worldwide. RDS has since announced that it will appeal the ruling 1.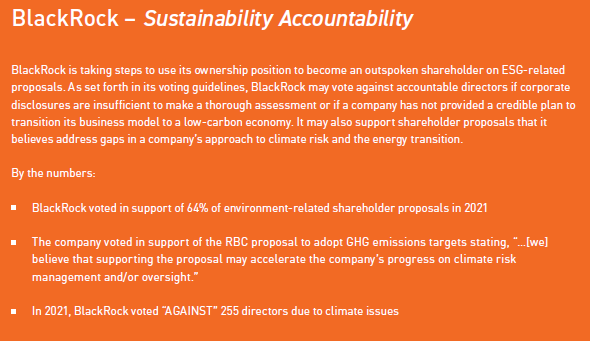 Social Factors 
The 2021 proxy season also saw an increase in proposals submitted to a shareholder vote, related to social concerns. Thirty-three proposals, up from nine in the previous year, were focused on topics such as living wage and diversity, equity and inclusion. Most proposal topics had to do with defining corporate purpose and COVID-related measures.

Contrary to this example, many proposals related to social measures were withdrawn following engagement between companies and their shareholders – suggesting that the parties may have reached some sort of agreement in relation to the proposal/issue.
How does this impact compensation? 
Global investors and corporate affiliated organizations, respondents to the 2021 ISS Global Policy Survey, agree that ESG metrics in compensation are an appropriate way to incentivize executives. Most believe that these metrics, financial or non-financial, need to be specific, measurable, and well-communicated to the market. The majority believe that short and long-term incentives are both effective vehicles for ESG metrics.
Looking forward, we expect increasing shareholder activism and engagement on ESG topics. Boards need to be prepared to discuss their ESG agenda, and how it integrates in performance (and sometimes in compensation). 
ESG in compensation is a rapidly evolving practice and we understand it may be challenging for boards to navigate. Deciding which ESG metrics are important to the company and how to go about setting ESG targets requires boards to create new ways of setting targets and calibrating performance curves on new, non-financial metrics. Hugessen is experienced at guiding boards as they implement ESG in their compensation plans. Our work in ESG in compensation includes helping boards to determine which ESG metrics to focus on and how they should be implemented. This encompasses the decision of inclusion in the short-term and/or long-term incentive plan and the weight to place on achieving selected ESG metric(s).
1 To learn more about RDS's ESG-related compensation, check out this case study, written by Hugessen consultants.